You can find a warm welcome video by part of the Partenope University of Naples clicking here.
The workshop will be held in Palazzo Pacanowsky, home to the School of Economics and Law, on top of the Pizzofalcone hill, one of the most ancient settlements in the city of Naples.
Palazzo Pacanowski is located in Via Generale Parisi n. 13, near the Nunziatella Military School, and it can be reached in a 10-minutes walk from piazza Trieste e Trento.
Also, an elevator called "Ascensore Chiaia" connects via Chiaia and via Monte di Dio, and from via Monte di Dio the University is 5 minutes walk.
A restricted-access elevator to Pacanowski building ("Ascensore Università Parthenope") is also available to Conference participants in via Chiatamone (to the right of the tunnel under the arcades). This is the most convenient entrance when coming from the waterfront hotels. The surveillance personnel will have the list of participants.
From the central station you can take bus 151 and stop in "Morelli". From there use the elevator  "Ascensore Università Parthenope".
For your convenience, you can find a live map by clicking here (it will pop up in a new tab).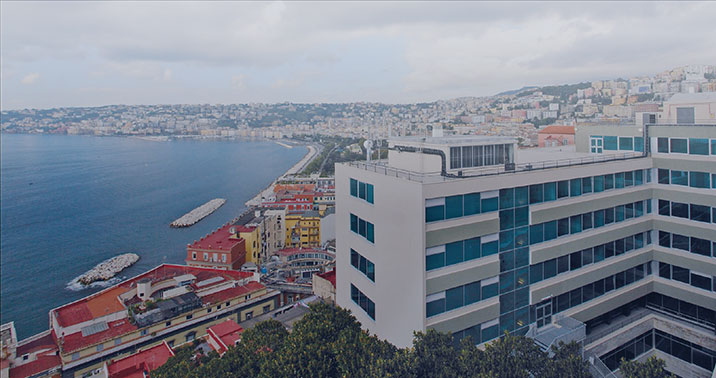 For your stay, there are special hotel fares for EFI7 participants at
(specify you are an Energy Finance Italia 7 Università Parthenope participant when reserving)

Hotel Royal Continental
(1 minute walk from the conference venue by taking the University internal elevator in Via Giorgio
Arcoleo, 52, 80121 Napoli NA, R6JV+RJ Napoli, Città Metropolitana di Napoli)
- Classic Doppia Uso Singolo € 130,00
- Classic Doppia € 150,00
- Superior Fronte Mare Doppia uso singolo (seaview) € 155,00
- Superior Fronte Mare Doppia (seaview) € 170,00
Fares per night, per room, incl. VAT and buffet breakfast. City tax not included

Grand Hotel Oriente
(about 15 minutes walk from the conference venue)
- Dus Executive € 115,00
- Doppia Executive € 145,00
- Dus Executive Superior € 125,00
- Doppia Executive Superior € 160,00
- Suite singola occupazione € 260,00
Fares per night, per room, incl. VAT and buffet breakfast. City tax not included

Renaissance Naples Hotel Mediterraneo
(about 15 minutes walk from the conference venue)
- Deluxe Room, Doppia uso singola € 139,00
- Deluxe Room, Camera Doppia € 179,00
Fares per night, per room, incl. VAT and buffet breakfast. City tax not included